The Design-a-Badge program is for agencies and companies to design customize badge for identifying authority. To use this program click on the link below:
http://www.blackinton.com/design-a-badge/show-badge-catalog.php
You will be asked to follow a series of tasks: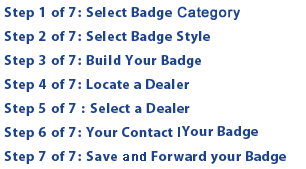 At any time you need assistance, please call David Franklin, Sales Manager at 1-850-878-0204, Ext 111.
Note: All badge purchases will require a valid ID.